Intellectual Property and Library Science
Thank you for clicking on my LibGuide. This LibGuide is being produced as a class project. The purpose of creating this LibGuide is to inform you of the many protections an inventor/creator has under the law, which prohibits people from reproducing, distribution or displaying original creations. On page one of this guide, will take a walk down Trademark and Patent lanes, Copyright boulevard, discuss Intellectual Property in general, and look at some ways Intellectual Property affects Library Science.Page two is dedicated to tangible and digital books (e-books), where you can find the books, and gives a brief description of each book. Page contains video links of the Intellectual Property information shared with you in this guide. Also, I have interjected some scenarios where Intellectual Property plays a vital role in the day-to-day operations of a library, the knowledge a Librarian has regarding Intellectual Property, and how to teach Intellectual Property to faculty, staff, students and the lay person.
I hope that you will enjoy this LibGuide. It is jam packed with text, journal article references, book references, web site links, blogs and "how-to" videos. If you would like additional information or have questions that were not answered in this guide, please contact me at the information listed in the contact box. Enjoy.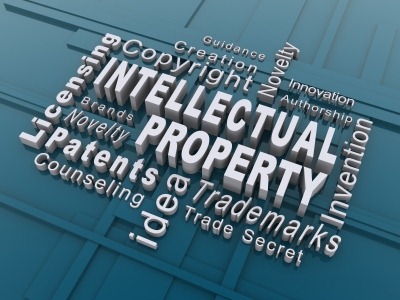 Intellectual property is considered creations of the mind. For example, the following could be IP: inventions, creations, literary and artistic works, improvement on something already created, and symbols, names, images, and designs. Simply put, Intellectual Property is the intangible rights protecting the products of human intelligence.
A couple of good books to reference on Intellectual Property are:
Freedman, J. (2006). Intellectual Property. New York, NY: Rosen Central
Bouchoux, D.E. (2001). Protecting Your Company's Intellectual Property: A Practical Guide to Trademarks, Copyrights, Patents and Trade Secrets. New York, NY: AMACOM Publishers.
The Library of Congress is the nation's first established cultural institution and the largest library in the world.
The Library of Congress occupies three buildings on Capitol Hill. The Thomas Jefferson Building (1897) is the original separate Library of Congress building; the John Adams Building was built in 1938; and the James Madison Memorial Building was completed in 1981. Other facilities include the High Density Storage Facility (2002) at Fort Meade, Md., and the Packard Campus for Audio Visual Conservation (2007) in Culpeper, Va.
Reference book:
Chan, L.M. (2005). Library of Congress Subject Headings: Principles & Application. Library and Information Science Text Series. Westport, CT: Libraries Unlimited, Greenwood Publishing Group.
This book is a Bible for Librarians and anyone working in the field of Library Science. It contains the history of the Library of Congress, as well as coding and cataloging tools, headings, search terms, holdings and control numbers of books at the Library of Congress.
Copyrighting is another form of protection. Items may not be reproduced, distributed or displayed without the express permission of the original author. Libraries often deal with copyright and other intellectual property issues on a daily basis (faculty, staff, students), and have become known as experts in the field of Copyright. For example, some common questions to ask a librarian about Copyright issues is what types of works from others can be used clear and free from their writings, articles, reports and books. Also, the ability to photocopy materials are subject under the Copyright laws
The United States Copyright Office, a part of the Library of Congress, is the official U.S. government body that maintains records of copyright registration in the United States, including a Copyright Catalog
.
Copyright Registry Online
A couple of good reference books for Copyrights are:
Fishman, S. (2012). The public domain: how to find and use copyright-free writings, music, art and more. Berkley, CA: Nolo Publishing.
Doctorow, C. (2014). Information doesn't want to be free: Laws for the Internet age.
United States Patent and Trademarks Office
The United States Patent and Trademark Office is the governing authority for granting patents and trademarks in the United States.
Trademarks
So just what is trademark?
A trademark is a recognizable sign, design, or unique expression related to products or services of a particular source from those of others, although trademarks used to identify services are usually called service marks. The trademark owner can be an individual, business organization, or any legal entity.
There are several types of trademarks:

Trademark

Service mark - used to identify and distinguish the services of one person from the services of others and to indicate the source of the services.

Registered - A mark which is registered in the United States Patent and Trademark Office (USPTO)

Collective Mark - A mark that identifies members of a union, cooperative, or other collective organization
Patents

And just what is a Patent?

A Patent is a government authority or license conferring a right or title for a set period, especially the sole right to exclude others from making, using, or selling an invention. A patent for an invention is the grant of a property right to the inventor. Patents are granted for new, useful and non-obvious inventions for a period of 20 years from the filing date of a patent application, and provide the right to exclude others from exploiting the invention during that period. U.S. patents are issued by the United States Patent and Trademark Office.
A couple of good reference books for Patents and Trademarks are:

Pressman, D. & Stim, R. (2015). Nolo's Patents for Beginners. This book examines the procedures for qualifying a patent, invention documentation, how to search for a patent, patent ownership and patent infringement.

Hollander, B.G. (2013). The Next Big Thing: Developing Your Digital Business Idea. New York, NY: Rosen Publishers.


Trademark and Patent Blogs:

Trademark Blogs by Marty Schwimmer, Law Offices of Marty Schwimmer
http://www.schwimmerlegal.com/
Provides up-to-date news on Trademarks and Trademark Infringement
Patent Blogs by the Law Offices of Jeffer, Mangels, Butler & Mitchell
Up-to-date news on Patents